Apex Legends Account Leveling Boosting
Get any Apex level in the shortest time by professional extra skilled Apex players
Level Up Faster With Our
Apex Legends Level Boosting
Apex Legends leveling boosting is a service that increase your level quick and safe with the help of professional Apex players. Imagine this: You're new to the game or maybe you've been playing for a while, but you're stuck in a rut. Grinding levels can be time-consuming and sometimes downright boring, right? That's where Apex Legends level boosting comes in!
OverBoost's service accelerates your progress, helping you unlock the coveted ranked mode faster than you could alone, because, let's face it, who wants to slog through 50 lvls when you could be enjoying the thrill of the competition? So, why not let a professional take the wheel and turbocharge your journey to level 50 or maybe to level 500 and beyond?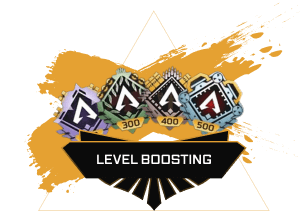 How We Ensure Your Safety During Apex Legends Lvl Boosting
No cheats and bans
Data protection
VPN PROTECTED
Сonfidentiality of information
Accountable Boosters
Y***********N
very nice, fast, good, easy
29/04/2023
N***************K
Very fast and very friendly communication! Would definitely recommend and get another boost here again
29/10/2020
Y****************U
C******************N
The Service was Great and ist was super quick
16/04/2020
1.

Choose your current and desired lvl: You decide where you want to go, and OverBoost's Apex Legends leveling service helps you get there.

2.

Select your preferences: Do you have a favorite Legend? Would you prefer us to stream the action or stay incognito? Customize your boosting experience to your liking.

3.

Place your order: Once you've made your selections, you can proceed to checkout. Remember, the journey to greatness is just a click away!

4.

Watch Your Progress: After you've placed your order, our professional boosters will start working on your request. You can track the progress and communicate with your booster throughout the process.

5.

Enjoy your boosted account: After the boosting is complete, it's time for you to reap the rewards. Your boosted account is ready for some serious action!
Progress towards your desired lvl: OverBoost service guarantees that you will reach the level you ordered.
Level Rewards: With each level comes great rewards. From Apex Packs to Legend Tokens, the higher the level, the more Apex lootboxes you will get.
Access to Ranked Play: Once you hit level 50, you'll unlock Ranked Play, where you can compete with other players and see how you stack up.
Wins and badges: Our professional boosters increase your chances of getting wins and unlocking some badges.
A boosted account, ready for action: Our job isn't done until we've delivered a boosted account that's ready to take on the world of Apex Legends.
Benefits of Using
Level Boosting Services
Top-Tier Apex Boosters

OverBoost boosters are not just gamers, they're professionals who know the ins and outs of Apex Legends. They've climbed the ranks, battled the best, and now they're here to help you with Apex Legends lvl boosting.

Quick Boosting Start

As soon as you place your order, we waste no time. Your boost begins almost immediately, so you can start reaping the benefits sooner.

Guaranteed Result

With our service, success isn't a chance, it's a guarantee. You'll get the level you ordered - no ifs, ands, or buts about it.

Account Safety Priority

Your account's safety is our top priority. Our boosters employ secure methods to ensure your account remains uncompromised.

Available and Supportive Assistance

Got questions? We've got answers. OverBoost's support team is always on hand to assist you.

Maximized Privacy Assurance

We prioritize data protection and account security in our Apex Legends account leveling boosting. Our boosters and coaches are real people who respect your privacy​.